SOUNDBOKS 3rd generation is such a bluetooth speaker beast that the company must have felt compelled to spell its name in ALL CAPITALS like you have to shout it out at your friends when they asked you what kind of speaker is playing level sound concert at 126 dB SPL. Obviously, it's not a "lowercase" type mark, and it was just the longest sentence I've ever written.
I really wish SOUNDBOKS had arrived about five years ago, when I was still animating my neighborhood fireworks on July 4th. It's amazing how much firepower you can buy these days in seasonal fireworks stores in old gutted retail stores. Our cul-de-sac fireworks shows were so out of the ordinary (and frankly a bit reckless for a subdivision with lots of mature trees) that the women finally shut us down. Before that happened, however, my favorite part of the annual lore was less about blowing stuff up than creating my 20 minute fireworks playlist with references to "fire," "boom." or "America" ​​and surprise my neighbors with my creative selections.
Unfortunately for me at the time, the speaker I was using for the show could neither put out the proper volume for a large and noisy outdoor space, nor get through the show at full volume without draining the battery. And when there are 50 kids running during the "pre-show", long extension cords aren't the best plan either.
If you love speaker articles: Bowers & Wilkins polishes up a real gem
Bluetooth speaker in name only
Boy, what I would have given back then for a bluetooth speaker with the size, audio quality, max decibel capacities and battery life of the SOUNDBOKS Gen 3 bluetooth speaker. Frankly, to simply call it a bluetooth speaker is a bit of an injustice. I don't know about you, but when I think of Bluetooth I think of a pocket or table speaker, not a huge metal mesh box with handles on the sides that look more like concert rigs than they do. 'to handles.
The only thing SOUNDBOKS has in common with other more pedestrian Bluetooth speakers is really the Bluetooth 5.0 wireless protocol. Otherwise, what you get with SOUNDBOKS is almost at the level of a commercial grade speaker that you would see stacked in a table on a concert stage.
Inside SOUNDBOKS
Priced at $ 999, each SOUNDBOKS includes two 10-inch ferrite woofers and a single 1-inch compression tweeter and patented Merus Audio Eximo amplification technology. The speaker frequency range is 40Hz to 20kHz and, as already noted, can be played at an SPL volume of 126dB max.
SKAA wireless technology allows the Bluetooth signal to be relayed up to five SOUNDBOKS spaced up to 65 feet apart, for a fairly massive array of speakers perfectly synchronized with each other.
Inputs include two XLR / 6.35mm (TRS) combo jacks for sound reinforcement capabilities and a 3.5mm stereo jack (TRS). There is also a 3.5mm stereo jack (TRS) for output (for headphones, I guess).
If I haven't made it clear already, SOUNDBOKS is not a small speaker. It measures 26.2 inches high x 18 inches wide x 12.6 inches deep and weighs 33 lbs.
SOUNDBOKS, which is also waterproof, comes with a rechargeable and removable LiFePo4 battery (with charger) that can last up to 40 hours at medium volume or five hours at maximum volume.
You can control and update a SOUNDBOKS with the speaker app, available for iOS or Android devices. For more manual control, there is a large volume button, a power button and a red button for pairing with other SOUNDBOKS.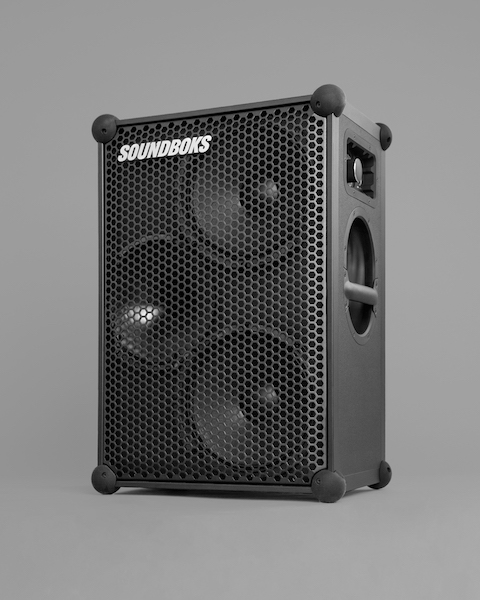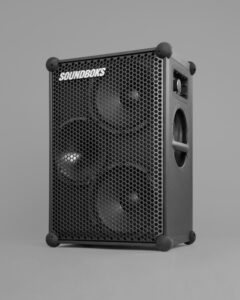 When you open the SOUNDBOKS manual, there is a very fanciful tone about how the speaker is marketed. A note from the founders "Jesper, Christoffer and Hjalte" explains how the company started as a group of friends who just wanted to take their "party experiences" to the next level. "We didn't want any limits on where we could go, what we could do or how loud we could get. So we built a loudspeaker that could do it all, "explains the introduction.
According to the company's tradition, the SOUNDBOKS community first started in Denmark, then in Germany, France and finally in the United States. backflip on their SOUNDBOKS. It is clearly an atmosphere.
In a section called "Make It Yours," the company encourages SOUNDBOKS owners to personalize their speaker grilles with custom paint jobs. You can use an included Allen wrench to unscrew the front grille (and unscrew the "for safer" logo when painting the grille with most types of paint, as long as you put a coat of primer before and sealer after.
SOUNDBOKS is a very powerful speaker that can wow you if you need to, but also play at lower volumes with great clarity. It might be a little more than you need on a quiet patio or at times when you really don't want to carry a 30-pound speaker in the back of your car, but it's ideal. for large spaces where you need high volume, a durable way to blast your tunes.
For the record, I couldn't keep the review unit sent to me, so I didn't really have to think about a new grille color. I don't think I would have changed anything, however. The standard black paint job is perfect enough for a speaker that comes so close to delivering the kind of yeoman-like performance you'd get from commercial rigs backing up your favorite band.
(Visited 5 times, 5 visits today)
Source link